In this post we want to talk about two of the best competition karate gi: the Shureido Waza WKF and thel Kaiten Hiyaku WKF. A comparison to see the differences between the two brands, with opinions of the best karatekas in Spain, so you can make the best decision in case you have doubts about which model best suits your needs. Let's get started!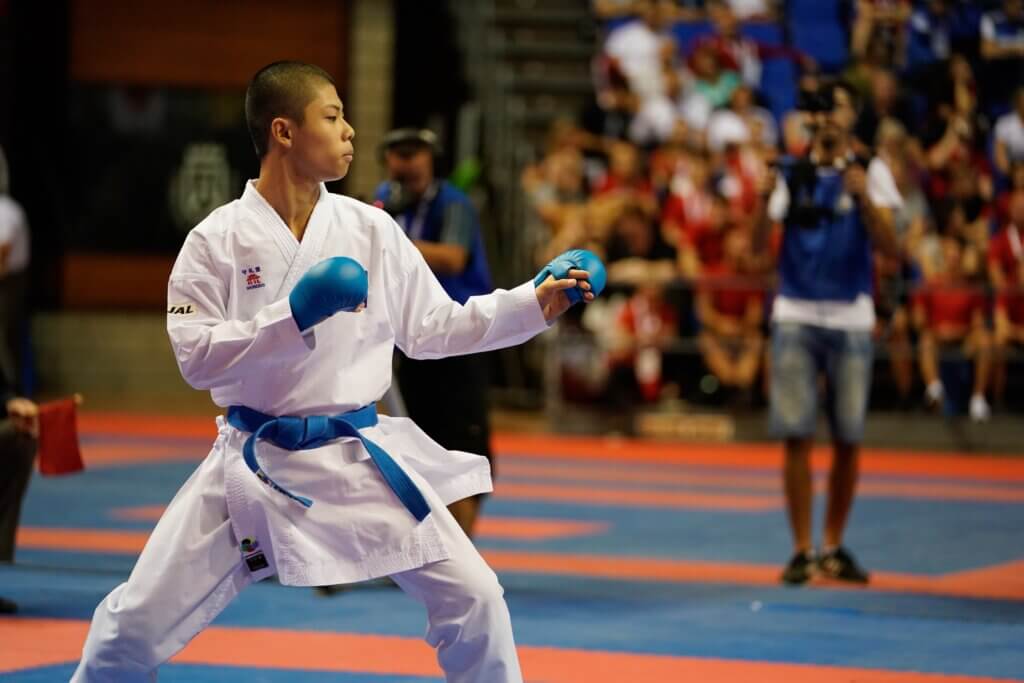 Shureido Waza WKF Gi
The Karate Gi Shureido Waza is a competition suit approved by the World Karate Federation WKF handmade in Okinawa, Japan, the birthplace of karate.
It is a karate gi designed by the Japanese brand Shureido for kumite competitors. To find out more, we asked several karatekas in Spain for their opinions and they all agree that Shureido is the most prestigious brand in the world of karate, and they say that it is a pleasure to wear their clothes, just as the best karatekas in the world think.
Regarding the fabric, the Shureido Waza stands out for its lightness and breathability, which offers karatekas great comfort on the tatami. Moreover, as Carmen García Capitán says, "it is the only one you can order your original size without having to order 2 sizes more".
In terms of design, the Shureido Waza is a Gi that looks stunning. It is a karategi with an elegant cut that fits your body and enhances your figure. In addition, it has a white tone, characteristic of the whole range of Shureido karategi, that is very eye-catching. Therefore, in terms of design, as our karatekas point out, there is no better kumite karategi than the Shureido Waza.
For sure the Shureido Waza is one of the best options, if not the best, when choosing a karategi for kumite competition.
Karategi Kaiten Hiyaku WKF
The Karategi Kaiten Hiyaku is a Gi approved by the World Karate Federation -WKF- specially designed for kumite competitors.
It is one of the most outstanding Kaiten karategi, a brand that stands out for values such as dynamism and mysticism, which are perfectly reflected in the Kaiten Hiyaku.
In Japanese, Hiyaku means speed and dynamism and that is exactly what this Kumite Gi offers. The super light and loose fabric allows competitors to be more dynamic on the tatami.
In addition, as Berta Montaner tells us "the Karategi Kaiten Hiyaku WKF breathes great and you don't feel the heaviness when you sweat, something you can feel with other suits".
6 tips to decide on the best Competition Karate Gi
Whichever one you choose, you won't go wrong: Without a doubt we are talking about two of the best options if you are thinking of buying a new karategi for training and competing in kumite.
Stop and think about what you value the most: The choice between one or the other will depend on what we value the most and what makes us feel more comfortable on the tatami.
he basic attributes are fulfilled by ✔️: Both models are comfortable, lightweight and breathable karategi.
For design-first people: If you are looking for a complete karategi and you love design and styling your figure, you shold provably choice Shureido Waza
And for those who prefer dynamism: If you like the design but prefer dynamism on the tatami, perhaps you should choose theKaiten Hiyaku.
And the price?: Both models are in a very similar price range. At Hajime Karate you can buy the Shureido Waza from 149,95€ and the Kaiten Hiyaku for 95,50€.
Remember that we can personalise both models with embroidery on the chest, shoulders, lapel and trousers, and that we can send the jacket and trousers tailor-made.
If you have any questions, please do not hesitate to contact us via Facebook, Instagram, WhatsApp or email info@hajimekarate.com.