Description
Head guard with mask, approved by the Royal Spanish Karate Federation. Provides protection for face and head.
Composition: Immersion of varnish, high impact resitant plastic.
Sizes S / M / L /XL
Information manual for karate helmet with transparent mask.
Cleaning and maintenance instructions.
Clean with a damp cloth with a solution of water and alcohol-free detergent.
Store in a dry and well ventilated place.
Try to store in a flat position.
This karate helmet cannot offer absolute protection against injury.
Exposing the protector to direct sunlight or temperatures above 40°C for hours at a time may affect its normal performance.
Contamination with toxic products (solvents, acids, etc.) should be avoided.
How to know when the protector is no longer effective.
Guards, like many other products, are subject to ageing and wear and tear and eventually cease to be as efficient as when they are brand new. When your protector has reached that point you should observe:
If the ropes and rings have worn out and are no longer secure.
If the surface material starts to peel.
At this point we advise you to replace your protector.
This product is a helmet used in competition and training. It prevents or reduces any damage that your opponent may inflict on you. However, always remember that this type of protection cannot offer absolute protection against injury.
t is recommended that this product is used in conjunction with CE marked bib, shin and forearm protectors that comply with EN 13277.
How to choose the right size?
Please use the drawing and table below as a reference: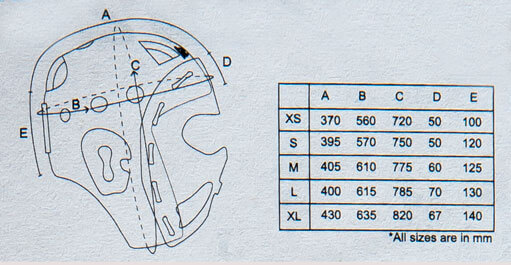 -Measurement A is measured from your eyebrows to the top of your neck.
-Measurement B is the circumference of your head above your ears.
-Measurement C is the circumference of your head from the top of your head to your chin, passing in front of your ears.
After you have chosen it you should try it on and fasten it with the velcro under your chin – but it MUST NOT interfere with your breathing or normal vision during use. ou should make sure that the protector is not loose, but it should not put any pressure on your head.